-4%
Emmitt Smith Upper Deck 1991 NFL Trading Card #456 Dallas Cowboys
Emmitt Smith Upper Deck 1991 NFL Trading Card #456 Dallas Cowboys
Emmitt Smith
Company: Upper Deck 1991
Subset: N/A
Card #456
Team: Dallas Cowboys
Card's Description
I would like to say, thank you for checking my products. The Player, Emmitt Smith played in the NFL for the Dallas Cowboys. He is represented in the set Upper Deck 1991. His NFL Trading sports card #172. If the card is after 1985, I am the only owner. Once I opened the package, the card was placed in a top loader. All the cards that I purchased were from a reputable card retailer. This card, as well as any you checkout, is not professionally graded. This is the original card, not a reprint.
Disclaimer
All the pictures are actual photos that I have taken. The pictures are not a stock picture or copy and paste. Except for a little light adjustment, all pictures are taken to the best of my ability. Also, note the adjustments of your screen can affect the actual picture. If I list more than one card, I will randomly pick the card. If the card in the photo is the one you want, send me an e-mail, otherwise, I will randomly send you a card. Thank you for your understanding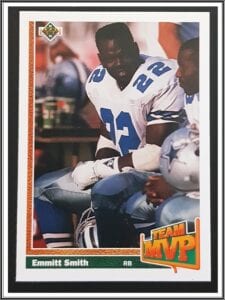 you can order this card from my eBay store. Click on the link after this sentence to be re-directed to the store: Emmitt Smith NFL Card
4 in stock
Description
This sports trading card, and well as any card listed in my store, is not professionally graded.