Description
Troy Aikman Playoff 1st and Ten 1997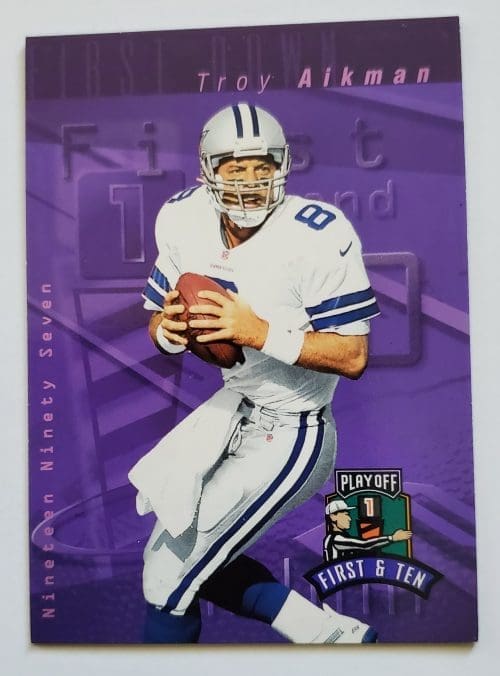 Card's Description
Troy Aikman  Playoff 1st and Ten 1997  card is #101. He played for the Dallas Cowboys.  The pack of  Platoff First and Ten is from a reputable card shop. The card of Troy Aikman / Steve Young Pro Line 1996 is in a top loader.  The grading of this card, and also any card on this site, is not by a professional grading establishment. This is the original card, not a reprint. 
---
Disclaimer
All the pictures are actual photos that I have taken. The pictures are not stock pictures or copied and pasted. Except for a little light adjustment, all pictures are taken to the best of my ability. Also, note that adjustments to your screen can affect the actual picture. If more than one card is in stock, I will randomly pick the card. If you want the card in the photo, send me an e-mail stating you wish the card in the photo. Thank you for your understanding
Store Policies
Below are my store shipping and return policies. Click on the link(s) to view the in-store policies
Other Troy Aikman Cards NFL Trading Cards:
Below is a list of other Troy Aikman cards in the store.  This is a small list. Type in the search box above for the complete listing of all Troy Aikman cards I am selling.
Other Dallas Cowboys Players NFL Trading Cards:
Although Troy Aikman made his mark for the Dallas Cowboys, there are other players for the team that stood out.
Other Outstanding NFL Players
Troy Aikman is only one of the outstanding players of the 80s and 90s. Below are a few players you may find interest in. For a complete listing type in the player's name in the search box.
Pinterest and eBay Links
Below are the links and descriptions to my Pinterest and eBay sites